How Retirement Communities Promote Health & Wellness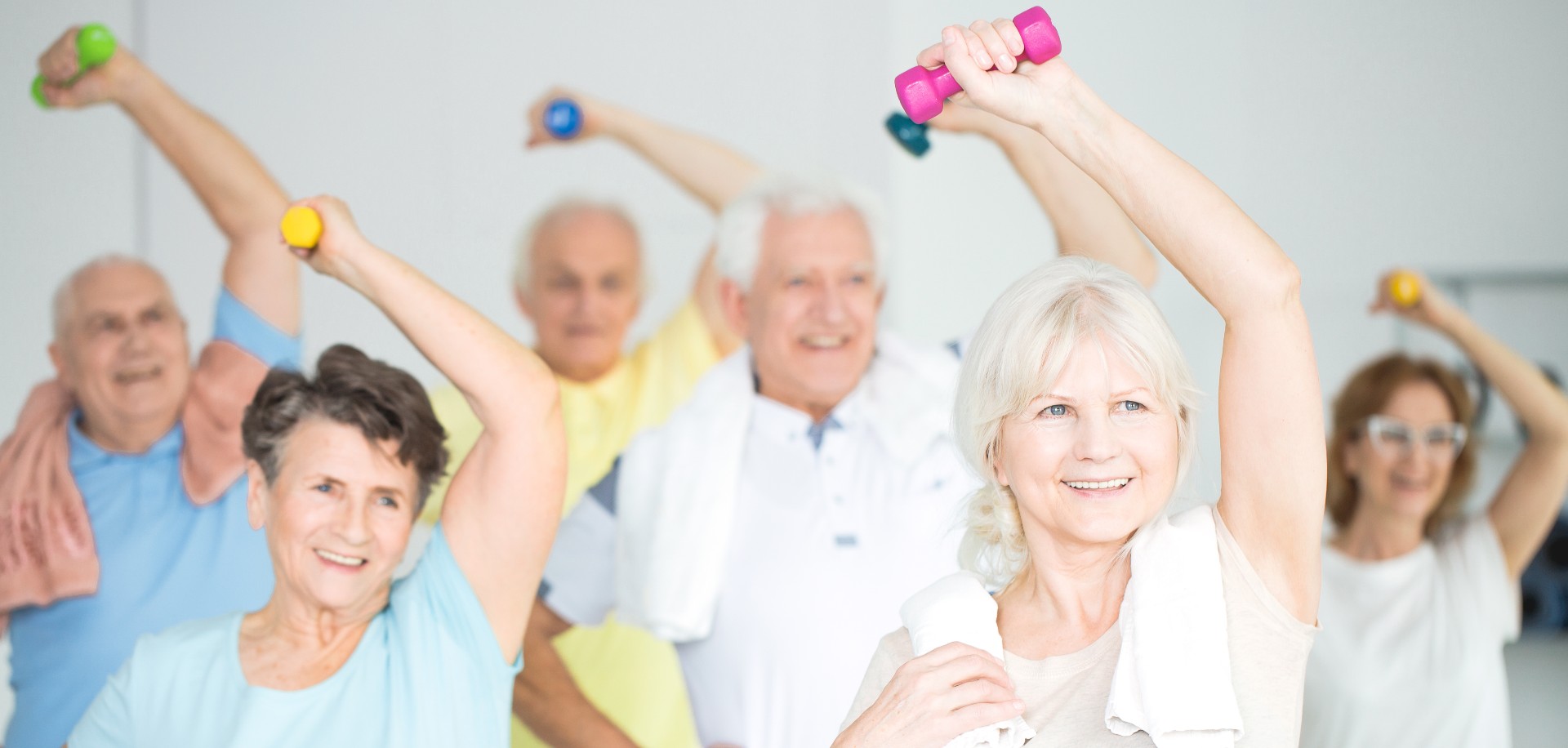 As we age it's natural for our lifestyles to slow down. We engage in fewer outdoor activities, spend less time outdoors, and lead a more sedentary lifestyle. Unfortunately, the natural tendency to take things a little slower in our golden years can have a negative impact on our health and wellness.
Why is Health and Wellness Important for Seniors?
In the retirement setting, having access to both physical and mental activities can improve your quality of life; even reducing the risk of some chronic diseases. Spending time outdoors, socializing, playing games, and participating in group exercise classes can help you get more enjoyment out of each day.
An Improved Quality of Life
A well-designed health and wellness program in a retirement community can help you in the following categories: independence, emotional health, cognitive function, and social wellness.
Independence
It's important for seniors to have as much independence over their daily lives as possible. The more mobility and cognitive function you have, the more "activities of daily living" – like bathing, grooming, and movement – you'll be able to accomplish on your own. Regular physical and cognitive exercise allows for more independence so you can perform more functions without requiring assistance which bolsters a healthy self-esteem, and higher quality of life.
Emotional Health
During the transition to retirement, it's not uncommon for senior citizens to suffer from depression. A retirement center that includes emotional wellness programs can combat common issues like depression to improve the way residents feel in their day-to-day lives. Activities like stress-reduction exercises, physical fitness, and socializing can be used to improve the lives of everyone in the community.
We promote emotional health in many ways:
Feeling optimistic about the future
Cultivating self-acceptance and a positive self image
Empathizing with others and understanding their feelings
Accepting that small setbacks and obstacles are a part of everyone's lives
Never being afraid to reach out for help when needed
Cognitive Function
With fewer responsibilities and problems to solve, seniors can begin to suffer from reduced cognitive function. Luckily, the brain can be challenged with activities that can improve cognitive function. We offer a variety of stimulating activities to keep the mind active.
Lectures and Classes
Outings to nearby historic sites
Local volunteering opportunities
More than 45 different activity groups to join
We encourage you to improve your intellectual wellness by:
Sharing your life experiences and knowledge with others
Embrace interesting new ideas that can reshape your worldview
Respond to any intellectual challenges with optimism and acceptance
Social Wellness
Creating new friendships and socializing with your community is important to help you feel engaged with those around you. Our social wellness programs help you build and foster friendships, resulting in a happier, more pleasant stay.
We encourage:
Building connections with other residents and the community
Be open minded and learn about the cultural backgrounds of others
Joining and participating in new social groups and clubs
Benefits of Physical Wellness Programs In Senior Communities
Studies have found a clear link between health and wellness and reduced risk of disease or injury. Seniors that participate in regular exercise are less likely to develop obesity, diabetes, osteoporosis, and even some forms of cancer.
Retirement communities can offer a variety of physical and mental wellness programs to keep you fit, safe, and happy. To promote these programs it's important that the benefits are explained clearly, and that the variety of options are designed to include everyone.
We encourage you to stay physically fit by:
Enjoying a diet of lean meat, along with fresh fruit and vegetables
Avoiding sugary foods and drinks
Quitting smoking and only drinking alcohol in moderation
Engaging in regular physical exercise to build strength and stamina
Visiting the doctor regularly for checkups and health screenings
Popular Types of Health and Wellness Programs
The following are some of the most popular fitness and wellness programs, but there are plenty of options to be discovered.
Group Fitness Classes
Health is always a focus in any retirement community, which is why encouraging exercise among residents is so important. To prevent injury, exercise programs need to be low impact, and modified for residents with reduced mobility.
Low impact exercise programs can include:
Tai Chi
Pilates
Chair yoga
Water aerobics
Resistance band workouts
Programs can be either formal or informal, allowing residents to exercise on their own schedule and without instruction for simple programs like walking outdoors.
Social Activities
Providing a calendar of social events can foster friendships and be mentally engaging. Playing games like bingo, Scrabble, or chess stimulate the mind, while outdoor games like horseshoe and cornhole are low impact physical games you can enjoy. Creative events like painting or collage classes can be used as more relaxing social options.
Movie nights
Happy hour
Arts and crafts
Billiards contests
Lifelong Learning
Learning about new things, or continued study on familiar subjects engages the brain. Structured classes and lectures on a variety of topics on culture, world history, or literature can be an engrossing pastime. After retirement, innovations or changes occur in the industries we formerly worked in, which can be exciting to follow and read about.
Stress Reduction and Relaxation
Managing stress and fostering a relaxed mind is just as important as regular physical activity. Stress results in unhappiness, but it can also have physical effects as well. Chronic stress has been shown to cause high blood pressure, diabetes, and even obesity.
To reduce stress buildup, it's important to relax and periodically "check in" with your stress levels. Creating a structured, yet simple daily routine reduces surprises or disruptions that can cause stress.
Quality Sleep
A healthy lifestyle is built on the foundation of high-quality sleep. Did you know that outdoor physical activity can actually help you sleep better? Sunlight provides the body with melatonin, so getting outside a bit each day can help you sleep better at night. Getting regular exercise like low-impact aerobics can help you fall asleep faster and feel more rested in the morning.
Meditation
Meditation can be a simple, no-cost solution to reducing stress. Residents can get together for guided meditation, or meditate individually, which can help with feeling relaxed and reduces stress. Simply encouraging measured breathing for a few minutes once or twice per day can work wonders. Individuals who become easily overwhelmed or agitated can use meditation as a tool to manage negative feelings or memories.
A Healthy Balanced Diet
We strive to make sure our residents enjoy high-quality meals with us. Eating foods with higher nutritional content can prevent illness and improve their quality of life. We offer a variety of chef-prepared dishes with fresh, seasonal ingredients to provide you with tasty, nutritious meals.
Low-sodium options
Vegetarian options
Heart-healthy options
Fresh ingredients
Frequently updated menus
Life at Freedom Village Brandywine
Moving to a Life Plan Community like Freedom Village at Brandywine will provide you with a variety of health and wellness benefits to help you enjoy your retirement years to the fullest. Contact our team today to learn more!