The Small Town Charm of Coatesville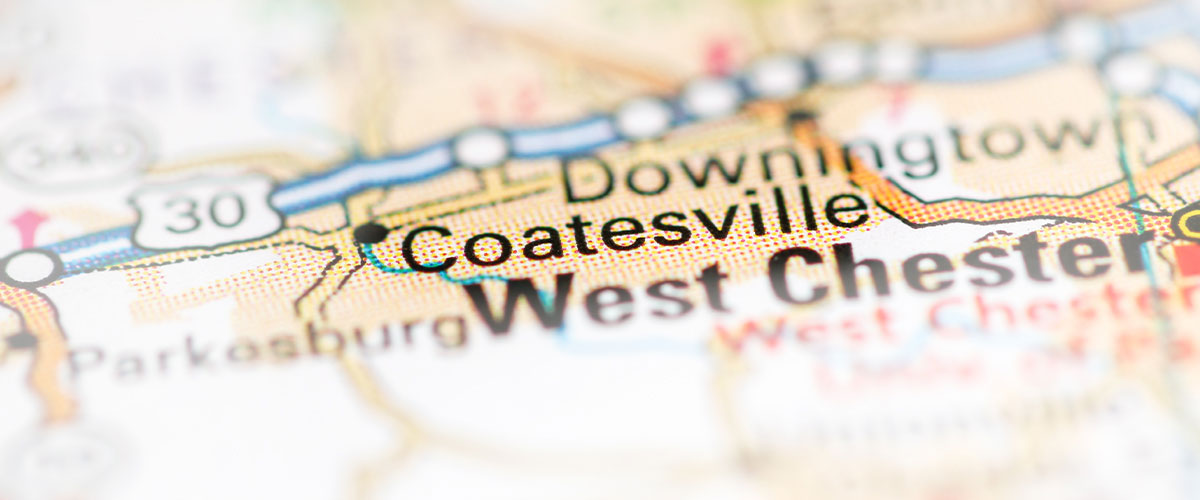 Where Is Coatesville, PA?
The cozy hamlet of Coatesville, PA sits along the Brandywine River, roughly 40 miles outside Philadelphia.
How Small Is the Town?
Coatesville's nearly two square miles are home to about 13,000 people. This charming town was built on the might of the steel industry, and steel and other enterprises have allowed Coatesville to thrive to this day.
A Quick History
Native Americans lived in this area of Pennsylvania for centuries. These tribes included the Iroquois, Shawnee, Erie, and Lenape Delaware, among others. In the late 18th century, after the American Revolutionary War, a successful farmer named Moses Coates moved here and inspired the name Coatesville. Within the next several years, the first toll road in the United States was established in Coatesville, which marked a halfway point between Lancaster, Pennsylvania, and Philadelphia.In the 19th century, the steel industry boomed, most notably Lukens Steel. After Dr. Charles Lukens died, his wife, Rebecca, took over as owner and manager of the steel mill. She has since been named "America's first female CEO of an industrial company," by Fortune Magazine.Lukens Steel is still making history. It constructed some of the steel beams for the original World Trade Center in New York City. Many of the beams were still standing after the 2001 terrorist attacks, and you can find some of those beams on display in Coatesville.
Why Retire in a Small Town Like Coatesville, PA?
The Scenery
Pennsylvania boasts some of the most beautiful seasons in the United States. Whether you like a blanketed snowy winter, a budding spring, a warm summer, or the glories of a New England autumn, you can see it all in the rolling hills that surround Coatesville.
The Slower Pace
Many retirees flock to small towns to get away from the hustle and bustle of city life. With small town charm, less noise pollution and a greater connection to nature, more rural settings have been linked to better health.The Lower Cost of Living
Small towns have the advantage over big cities when it comes to regular expenses. The overall cost of living in Coatesville is significantly less than the average in Pennsylvania and less than the national average.
The Tight-Knit Community
In a town of 13,000, you're never just another face. You get to know your neighbors, support each other and celebrate with each other. A small town means you don't have to feel alone.
Fun Things to Do in and around Coatesville
The National Iron and Steel Heritage Museum
This fascinating museum keeps the record of the industrial history of our town and the surrounding area. The history of iron and steel creates the framework of the Industrial Revolution in America, so it serves as a unique entry point into our national story.
Hibernia County Park
These 900+ acres of land provide a wide array of fun activities and learning opportunities. You'll find hiking trails, woodlands, open fields and meadows. Chambers Lake offers great fishing and boating. The Hibernia Mansion is often open to visitors and tells the stories of the various occupants in its 200-year history. In December, visiting groups can take a candlelight tour through the mansion, and in September they hold murder mystery parties on-site.
Stargazers Vineyard
On a south-facing slope in Coatesville, there is a unique microclimate. There you'll find the delicious tastes and scents of Stargazers Vineyard. You can order from a diverse menu of wines and sample until you find your favorite.
Strawberry Festival
The Rotary Club of Coatesville has taken over responsibility for this wildly popular yearly celebration at Coatesville City Hall. The event combines music, carnival rides, familiar characters, fireworks and signature food — like the famous strawberry shortcake.
At Freedom Village at Brandywine, we could not be prouder to be part of Coatesville. Our residents find so much joy in the neighborly atmosphere and lifestyle here. If you'd like to find out more about high-quality retirement living in this wonderful small town, let us know. A member of our team can provide any information you need. Or if you're looking for more opinions about why it's better to live in a small town when you retire, they could probably provide a few of those as well.