Top 7 Dogs Breeds That Are Great for Seniors in Retirement Communities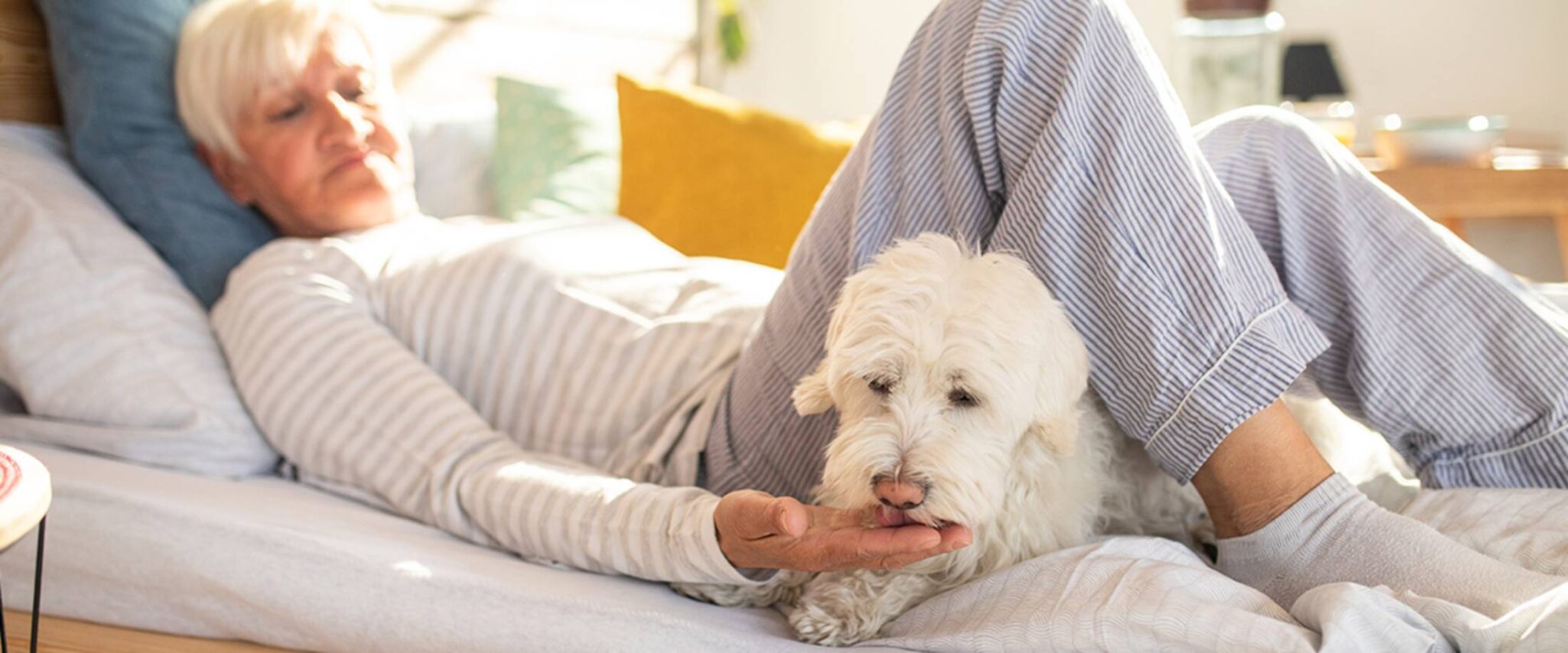 Dogs are a gift to the soul and spirit. They're actually good for our physical and emotional health. Walking and playing with your dog is a great way to stay active. Just owning one may help reduce stress and lower your blood pressure. Having a dog may even improve or prevent anxiety and depression. And dog ownership isn't just for the young. But if you're an older adult, factors related to your health and lifestyle can affect your ability to properly care for a dog. What are the best dogs for seniors, the best companion dogs and the best dog breeds for senior apartments? Let's find out.
The best dogs for senior apartments and senior living.
Purebred dogs have more predictable traits. And certain breeds make the best companion dogs and best indoor dogs for seniors because they're ideal for a more relaxed lifestyle. They're generally a little smaller with moderate levels of energy. Opinions may vary slightly, but these breeds are often considered the best dogs for seniors:
Pembroke Welsh Corgi
This adorable little dog weighs 24 to 30 pounds and makes a great companion. They're smart, easy to train, and small enough for most people to handle. Corgis are herding dogs by nature, and they need routine exercise — great for your daily walk. They're the perfect companion dog for active seniors.
Poodle
Another excellent companion dog for seniors — the poodle — is also one of the smartest. Best of all, you can choose your size. Whether you want the tiny toy poodle, the small miniature poodle, or the larger standard poodle, this dog will be a loyal, affectionate companion. Poodles learn fast and adapt well to all kinds of households. Basic daily walks are enough for most poodles. They do need to be professionally groomed every month or two, but are otherwise fairly easy to care for.
Maltese
This tiny, handsome canine package has many admirable qualities, but foremost among them may be portability. The Maltese ​is the quintessential little white lap dog. This breed will love spending time on your lap and going on short, easy walks. They're fairly easy to maintain, but they do require regular grooming. If you're looking for a loving, easy-to-handle 4- to 7-pound dog you can carry around in your bag, the Maltese may be for you.   
Cavalier King Charles Spaniel
Another excellent companion dog for seniors, the Cavalier King Charles spaniel is affectionate and adaptable. They're always happy just to be with you. They're an especially well-suited dog breed for senior apartment living. They typically weigh from 11 to 18 pounds, and are easy to handle and train. The Cavalier King Charles needs regular brushing, ear cleaning and the occasional trip to a groomer. 
Bichon Frise
With moderate exercise, this affectionate, fluffy little bundle of joy is happy as long as it has your companionship. Weighing about 7 to 12 pounds, the bichon frise is extremely easy to handle for most people. Bichons are also relatively simple to train. They need periodic grooming, but are otherwise fairly low-maintenance.
West Highland White Terrier
Westies make excellent, easy-to-handle companions. At 13 to 20 pounds, the breed is still small, but not as fragile as the Maltese. The Westie does require some grooming, but doesn't need to be trimmed as frequently as other small dog breeds for seniors. Overall, the Westie is friendly and fairly low-maintenance. 
French Bulldog
Want to lift your spirits? Add a happy little Frenchie to your life. French bulldogs are among the most cheerful of all dog breeds. They're compact, muscular, and active. And at 19 to 28 pounds, they're still quite manageable. Despite possessing good energy, they tend to lack endurance, so moderate exercise is usually just right for this breed. Their grooming needs are fairly ​minimal.
Small, portable and perfect.
These are just some of great dog breeds for seniors and there are, of course, many others. But because these breeds tend to be smaller in size with moderate energy levels, these are among the most appropriate dog breeds for senior apartment living. Most of all, they're all great companions that adapt well to the lifestyles of their owners.
If you're looking for a pet-friendly senior living community in West Brandywine, Pennsylvania, you and your canine friend will love the open air and beautiful scenery of our community walking paths at Freedom Village. Call us at 610-572-2017 to arrange a personal visit or see more of our community online here.