Why a Social Community Is a Must for Seniors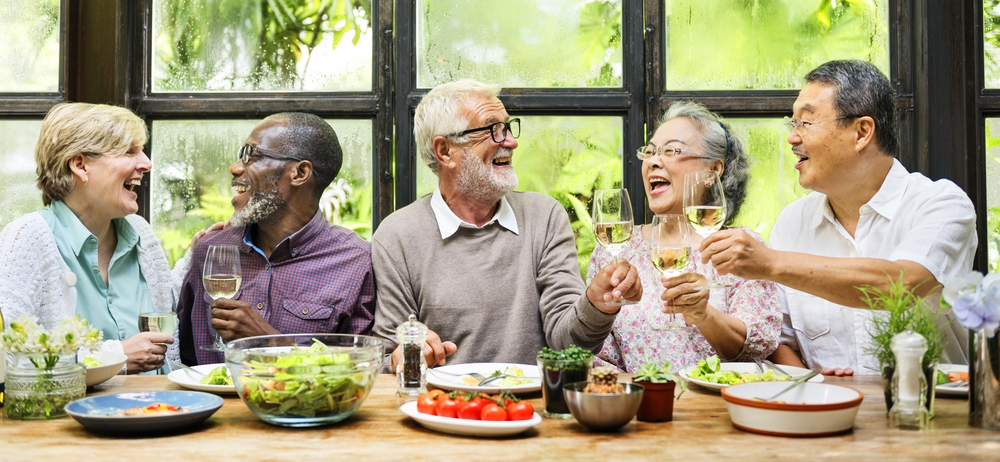 We all know the heartwarming pleasure that comes from feeling connected to people we care about. And most of us have experienced the misery of loneliness, too. So it probably comes as no surprise that social connection is linked to well-being, while its opposite — social isolation — can have a detrimental effect on health. Older adults are particularly susceptible to social isolation and loneliness, with almost 25% of adults age 65 or older considered to be socially isolated. For seniors, finding a social community can be an important step toward preventing loneliness and enjoying the happiness — and health benefits — associated with social connection.
Why Are Seniors Vulnerable to Social Isolation?
There are many reasons older adults are more at risk of being socially isolated and lonely. Retirement, the death of a spouse, a shrinking social circle and adult children who are busy with their own lives may leave older adults with less opportunity to connect with other people. Physical disabilities can affect an older adult's social life, too. Hearing impairment, chronic pain, or difficulty with daily tasks like dressing or grooming can discourage seniors from trying to engage socially with others.
Unfortunately, isolation can have a serious impact on health. According to research, social isolation and loneliness can lead to an increased risk of premature death and a number of health conditions, including dementia, heart disease, stroke, depression and anxiety.
The Benefits of Socialization for Seniors
Social connection can have an equally strong impact on health, improving both physical and cognitive well-being. Studies suggest that the benefits of being socially active include:
        An increase in physical activity. Social encounters with a wide array of people, including friends, family, acquaintances and even strangers, are associated with better mood and increased physical activity, which can lead to additional health benefits, including stronger bones and muscles, and better ability to perform everyday activities.
        Improved cognitive function. A recent study demonstrated that frequent contact with loved ones, whether in person or through digital interactions like texts or phone calls, lead to better results on cognitive tests.
        Protection against dementia. Research indicates that a large social support network may have a protective effect against the development of dementia.
Cultivating a Social Community
Although seniors may be more vulnerable to social isolation, there are ways for older adults to engage with friends, make new connections and expand their social network. Here some suggestions for cultivating an active social life:
        Attend local fitness classes. Breaking a sweat with fellow classmates can be a real bonding experience. Many communities have exercise classes designed specifically for seniors. Use the SilverSneakers® search tool to find senior fitness classes in your area.
        Join the club. Whether you're an avid crafter, reader, gardener or football fan, finding a group that shares your interests offers both a social outlet and a fun way to enjoy favorite hobbies and pastimes. Ask at your local library or do an online search to find the clubs and organizations that pique your interest.
        Visit the local senior center. Most communities have a senior center, or a community center, where art or educational classes, or a regular meal program invites seniors to connect with other members of the community.
        Consider moving to a senior living community. In a retirement community, social opportunities are built into the community culture. Classes, clubs, games, volunteer opportunities, social events and organized excursions to nearby attractions provide a host of opportunities to connect in a meaningful way with other people.
A Vibrant Social Community at Freedom Village at Brandywine
If you're looking for a way to expand your social circle, consider Freedom Village at Brandywine. In our close-knit senior living community, you'll find a wealth of opportunities to make new friends and get involved in community life. Lifelong learning classes, fitness classes, Happy Hours and over 45 interest groups and clubs are just a few of the possibilities. Contact us to learn more or to schedule a visit and experience our community for yourself.