What Is a Person-Centered Approach in Dementia Care?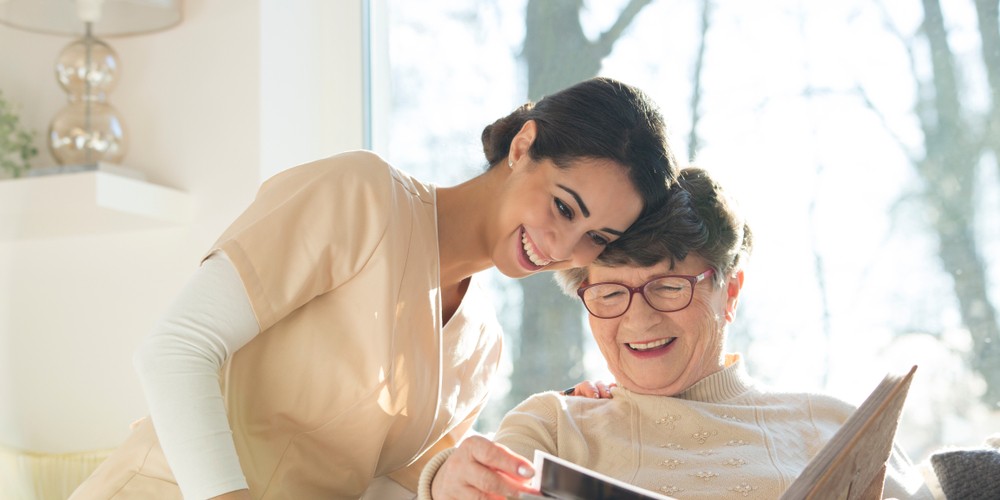 When you're searching for senior care for a loved one with memory loss, there's nothing more important than finding a place where that person will be empowered to live each day as fully as possible. Person-centered care is an approach that sees the person before anything else, drawing focus to the individual rather than the condition affecting their abilities. For residents with Alzheimer's disease or other forms of dementia, a person-centered approach to care provides an intentional focus on each person's current strengths and abilities, not on what they're unable to do for themselves.
Each resident's personal beliefs, life experiences, life stories, and relationships are part of who they are, and they benefit from programming and activities based on their personal preferences and values. With person-centered dementia care, each person is treated with dignity, privacy, and respect, always honoring their individuality and personal choices. Person-centered care is grounded in the importance of forming positive relationships. Caregivers get to know the person and not just their limitations, empowering each person to live as independently as possible. 
Understanding each resident's specific needs and unique abilities leads to a customized level of care. It empowers each person to communicate their needs, with caregiving shaped around those needs. Research suggests numerous benefits of person-centered practices in senior care, including improved quality of life, decreased agitation, improved sleep patterns and maintenance of self-esteem. 
Promoting Physical and Emotional Well-Being
Person-centered dementia care involves getting to know a person's interests, values and abilities, while ensuring their physical needs are being met. By engaging with each resident and asking loved ones for details about their life story, caregivers can gain valuable insights about a person's history and circumstances. This knowledge helps in the development of person-centered activities and programming for each individual.
Memory care residents often retain their long-term memories, and they may find comfort in treasured memories and familiar routines. Tapping into those memories can lighten the mood and bring a smile to their day. A person might have strong memories about gardening, dancing, watching sports on TV, or any number of activities. By getting to know each resident, caregivers can help people with dementia participate in something they used to regularly do. This can provide a real sense of accomplishment while also improving a person's physical and emotional well-being.
Reducing Frustration and Building Self-Esteem
Managing the negative experiences that come with memory loss can help residents and their families cope with a roller coaster of emotions. People with dementia may become withdrawn or paranoid as the condition progresses. Having an approach grounded in personal connections with caregivers helps residents feel more at ease and comfortable. It's important to find the right balance of activities that are stimulating and offer enough challenge without being overwhelming. 
Supporting Daily Functioning
A person-centered approach to senior care can enhance daily activities as well. Simple tasks such as taking a bath or getting dressed become increasingly difficult for people with dementia. Paying special attention to each person's strengths and challenges can help set up residents for success with their daily routines. For example, scheduling more challenging tasks and activities at appropriate times of day can help maximize their abilities. 
Maintaining a Sense of Purpose
Person-centered dementia care is all about providing meaningful engagement, nurturing self-esteem, and allowing people with dementia to make their own choices when possible. Breaking down difficult tasks into smaller steps is another way to help people with dementia maintain as much independence as possible. Having opportunities to accomplish tasks and find moments of joy improves a person's quality of life, and promotes a sense of satisfaction and dignity.
Personalized Care for Your Loved One's Memory Care Journey
Freedom Village at Brandywine provides specialized dementia care for your loved one with memory loss. Our skilled and compassionate team uses a person-centered approach that improves the lives of residents and their families. Contact us to learn more about our nationally recognized memory care program.