Why Are Retirement Community Residents Happier?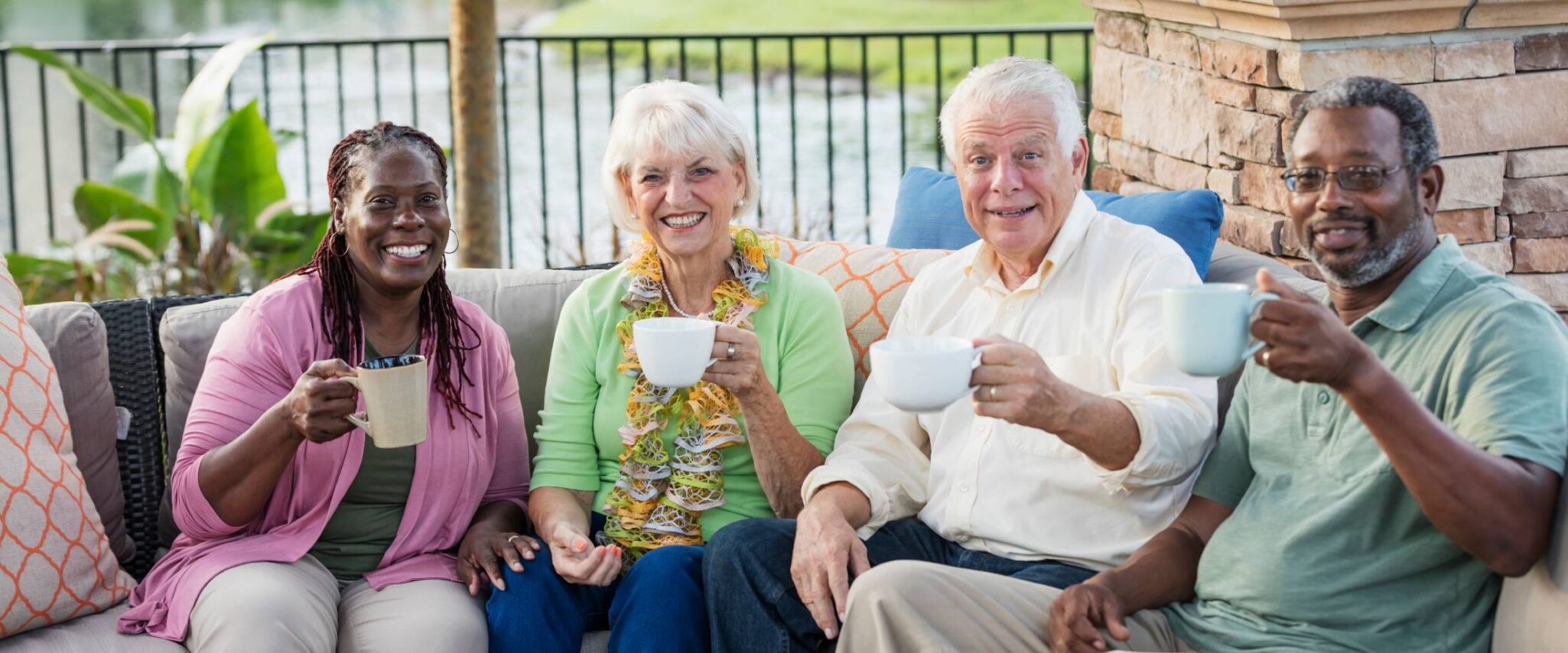 Peace and happiness at every stage of life. Isn't that the goal we all share? Although our personal definition of what makes us happy changes through the years, most of us enter retirement with a pretty good idea of what will make us happy, and why.   Universally, retirees seek to escape stress and create more time for what they want to do. Sorting out utility bills, mowing the lawn, buying or repairing appliances, mending a leaky roof — homeownership responsibilities can be tiresome in retirement. This begs the question, is there a better option to finding your happiness than aging in place? Research from a study conducted in the United Kingdom suggests benefits of retirement communities that may provide the answers.The largest of its kind, the study was initiated by ProMatura, a customer insight provider for senior housing, and ARCO, an organization representing retirement communities in the U.K. They polled 2,799 residents in 81 senior living communities, and 1,111 seniors who were considering a move to a senior living community. The researchers found that seniors who had already moved reported many benefits of retirement communities: they were more active, less lonely, felt a great sense of security and enjoyed life more.
The Stats on Senior Living
Below are some of the surprising stats supporting the benefits of retirement communities:
A great majority of residents (over 85%) said they were "satisfied" or "very satisfied" with their move into a retirement community.
Only 4% of the retirement community residents said they wished they'd waited longer to move. Almost all — 90% — believed they had moved at just the right time in their lives.
55% of retirement community residents agreed or strongly agreed that their quality of life was higher than a year ago.
61% of residents said their health was about the same since they moved into a community; 10% reported their health had even improved.
Community residents were five times as likely to engage in activities, social events and exercise.
93% of residents felt they were safe in case of an emergency, compared to only 40% of nonresidents.
How does this apply to American seniors?
The ProMatura findings on health, socialization, and happiness aren't very different from those of the five-year AgeWell Study, conducted by Northwestern University and the not-for-profit Mather LifeWays organization. Clearly, the benefits of retirement communities apply to all seniors, no matter what country they live in. These studies reinforce the idea that moving to a high-quality retirement community can be a positive experience, one specifically designed to help older adults get more joy out of life.
Things to Consider About Retirement Communities
While there's certainly a transition time that requires adjustment, life in a retirement community is geared toward individual freedom and greater independence. The maintenance-free lifestyle is one of the top benefits of retirement communities. It takes away daily hassles such as housekeeping, laundry, even cooking for oneself. It offers you a setting where you can focus on your overall health and wellness, continue favorite pastimes, and explore new opportunities to:
Meet new people and make friends.
Pursue  fascinating new hobbies.
Reignite old passions and interests.
Get into a regular, healthy exercise routine and enjoy the great outdoors.
Immerse yourself in new culinary experiences that are healthy and delicious.
Reconnect with family outside of a caregiver relationship.
Be confident that your needs will be met today and well into the future.
So, are retirement communities the key to happiness? Ultimately, it's up to you to make a choice that fits your goals. Staying where you are makes sense in some instances. But if you want to create a future where you're free to pursue your interests and focus on what matters most to you, moving to a retirement community can offer a vibrant and robust option.
Enjoy a Carefree Lifestyle at Freedom Village at Brandywine
See why people are choosing to move into retirement communities instead of aging in place at home. Seniors from Chester County, across our nation, and beyond, choose our community for the benefits of senior living  — why not see if we offer the right lifestyle for you? Contact us today at ​484-288-2200.